SUGAR Expo 2015
Wednesday, 3 June 2015 * Stanford University
The Stanford University Global Alliance for Redesign (SUGAR) invites you to join us, as we celebrate our students' creative work in design research, design practice, engineering, and manufacturing. The SUGAR Expo 2015 is a unique, once-a-year opportunity to meet with students, faculty, and industry colleagues from top universities around the world.
Registration
Please register online at http://sugarexpo2015.peatix.com. The event is free to all industry guests and visitors. Participating schools and visiting scholars within the SUGAR community are required to pay a moderate fee.
Innovation Showcase
Experience 16 real innovation problems addressed by 11 universities. Student teams have been imagining and building innovative solutions to design challenges from these companies:
Allianz: Revolution in CIO dialogue
BeatRobo: What is the future of personal ID and security
Bosch: Services for autonomous driving
DataSam: Installing a network / enhancing the patient journey
Electric Mobility Norway: Who's in charge of the future?
Electric Mobility Norway: Combo station
Lufthansa Technik: Digital marketplace for MRO products and services
Mexican National Institute of Anthropology and History: Customization in the museum experience
National Laboratory of Sustainability Sciences (LANCIS): Technology focused on emotions
Pontifical Javierian University: Creative student spaces outside the classroom
Raiffeisen: Increasing customer loyalty for banking
Roche: New applications of design thinking
Sardar Patel Post Graduate Institute: Better dental experience in India
TecAlliance: New services for car mechanics and repair shops
ThyssenKrup: Transparent communication for engineers
UBS: Empire ecosystem for financial services
Expo Schedule
On June 3, SUGAR team presentations will start at 9:30 AM in the d.school atrium within the Peterson Engineering Laboratory, Building 550 (not Hewlett 200). Registration will be open from 9:00 to 9:30 AM, and coffee will be served.
A lunch break will run from 12:45 to 2:00 PM. Please note that no lunch will be provided for guests. Guests are invited to find lunch at campus eateries in the Packard Building, Huang Engineering Center, and Tresidder Student Union, all conveniently located to our venue locations.
The afternoon showcase will be held at the d.school atrium of the Peterson Engineering Laboratory, Building 550, from 2:00 to 5:00 PM.
Stanford Design EXPErience
This SUGAR Expo event precedes the Stanford Design EXPErience on June 4, so that you may experience two days back-to-back of unparalleled access to innovative student work and ideas outside your usual sphere.
Participating Teams
Participating SUGAR universities will be sent a detailed schedule with location and other details soon. All SUGAR student teams will have dedicated prep time on June 1, rehearsals on June 2, and presentations and showcase on June 3. Several group social activities will be organized, which are included in the event fees, such as a Wednesday dinner and Thursday "SuperSUDS" dinner.
The Stanford Design EXPErience will be on June 4. SUGAR teaching teams are requested to stay through the morning of June 5 for a final debrief and reflection session.
Foreign Guests
For those visiting Stanford from afar, Stanford's Visitor Services offers information on maps and directions, public transportation, local airports, as well as local places to stay and a lodging guide.
Directions & Parking
SUGAR Expo activities will take place at the center of the Stanford University campus.
Please see driving directions from the d.school at http://dschool.stanford.edu/about/#getting-to-our-building.
If driving, free event parking will be available at Galvez Field (Galvez and Campus Drive), and then it is a 12-15 minute walk to the d.school / Peterson building. You will need the SUGAR event code for free parking. This code will be sent by email prior to the event to all registered attendees.
There is a free Marguerite Shuttle available nearby to the Galvez Event parking lot. The Alumni Center stop for the "Y" Marguerite Shuttle is in front of the Alumni Center. It departs from the Alumni Center Stop at 8:30 AM and arrives at Via Ortega at 8:43 AM (and 8:50/9:03).
To return, take the "X" Marguerite Shuttle. It departs every 20 minutes from the Via Ortega stop and returns to the Alumni Center.
Map below: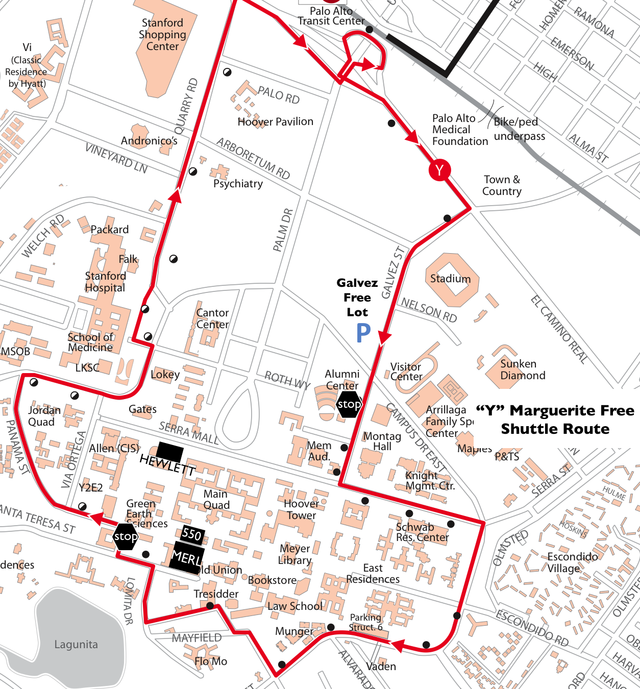 Additional Help & Questions
Any questions may be directed to the SUGAR Expo planning team at contact@sugar-network.org.